Name: Curtis Champion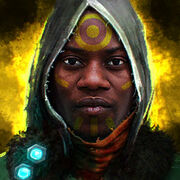 Age : Unknown
Last reported location: Unknown
Curtis Champion was a high ranking officer in the Directorate fleet. When the Empire turned against the Directorate, Curtis tried to switch sides and join imperial forces, but he was instead caught and sentenced to life in prison.
A skirmish near the prison station allowed him to break free and disappear. His new career then began; a career of indiscriminate war against the entire Gemini.
| Ship name | Ship type | Ship class | Faction Name | Level | Price | Start Sector |
| --- | --- | --- | --- | --- | --- | --- |
| Vengeful Serpent | Razsa | Cruiser | Trinity Free States | 70 | 7,000,000 | 233 |
Pleease click here to get back to the heroes page.
Ad blocker interference detected!
Wikia is a free-to-use site that makes money from advertising. We have a modified experience for viewers using ad blockers

Wikia is not accessible if you've made further modifications. Remove the custom ad blocker rule(s) and the page will load as expected.