Name: Jack Blade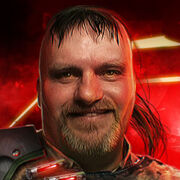 Age : Unknown
Last reported location: Unknown
Captain Jack Blade started his career as a freelance pirate slowly making a name for himself throughout Gemini. He met up with a rival pirate leader and after killing him took charge of his new found gang.
It was not long after that when his exploits started to become widely known and equally feared among the private trading corporations. He is considered a hero among many for his generous donations to the needy, some even comparing him to the fabled Robin Hood...
| Ship name | Ship type | Ship class | Faction Name | Level | Price | Start Sector |
| --- | --- | --- | --- | --- | --- | --- |
| Vengeance | Razsa | Cruiser | Trinity Free States | 70 | 8,000,000 | 299 |
Pleease click here to get back to the heroes page.
Ad blocker interference detected!
Wikia is a free-to-use site that makes money from advertising. We have a modified experience for viewers using ad blockers

Wikia is not accessible if you've made further modifications. Remove the custom ad blocker rule(s) and the page will load as expected.